4 January 2010 -UNFPA, the United Nations Population Fund, turned over mobile hospital and laboratory tents to the Department of
 Health Region 5 last December 23 as part of its assistance to families displaced by the recent eruption of Mayon Volcano in Albay province.
The hospital tent, which is equipped with complete delivery equipment and supplies was set up at the San AndresResettlement Site in the municipality of Sto. Domingo, along with the laboratory facility. These were intended to ensure continuity of maternal health care services for pregnant, lactating and post partum women in the evacuation camps.
"It is our mission to save lives even in emergency situations, such as the eruption of Mayon Volcano, by ensuring that reproductive health services will continue to be available to the displaced population, especially pregnant women who need them most," said UNFPA Representative Suneeta Mukherjee.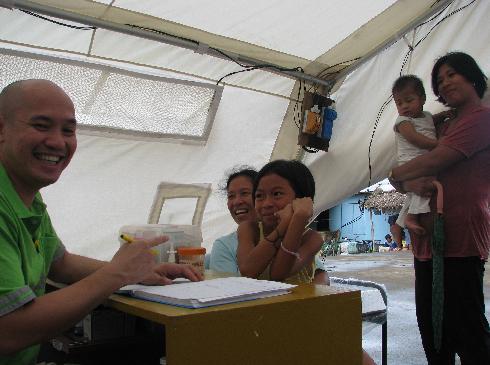 UNFPA has also committed to distribute a total of 2, 170 hygiene kits to identified pregnant, lactating and post partum women in all evacuation centers and relocation sites in the province. Data provided by health officers on ground shows that there are 407 pregnant women, 1,128 lactating mothers, and 131 post-partum cases in the evacuation centers.
While the San Andres resettlement site and adjacent evacuation centers were the first to benefit from this intervention, UNFPA in coordination with the DOH will conduct a series of missions for Minimum Initial Package Service (MISP) for reproductive health in the other 25 evacuation centers and relocation sites by first week of January 2010, depending on the development of Mayon's activity.
MISP for reproductive health is a set of basic services implemented by the UNFPA as part of emergency response to prevent maternal and infant deaths, sexual violence, unwanted pregnancies, and the spread of sexually transmitted infections including HIV.