Ensuring rights and choices for all
11 October 2019
Empowering Maranao girls against child marriage
Lanao del Sur, Philippines - "In Bangsamoro, children are often married off very early. My mom was just 4 years old when she got engaged. My cousin was 8 years old," said Sam Guro, 30.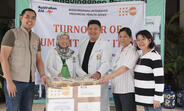 Despite remarkable achievements in the past five decades, much more must be done to...

The Fatwa on the Model Family in Islam urges the Muslim youth to "get married when the...