Saguiaran, Philippines – Jamalia Disomimba recalls the fear she felt while fleeing Marawi city with her husband and baby on 23 May, a mere month after giving birth. 
Ms. Disomimba, 22, walked from her home in Marawi city to Saguiaran. "I cannot remember how long we walked or what time of the day we started or ended. All I can remember was being afraid," she told UNFPA. 
All that mattered to her was to get out of the city with her family.
Ms. Disomimba, her husband, and baby are among the 78,466 families displaced from Marawi city due to fighting between government forces and the Maute and Abu Sayyaf armed groups. 
The new mother and her family are now staying in Saguiaran covered court, a designated evacuation centre. 
Protection services
Women and girls are more vulnerable in emergencies and have specific needs. They need protection from gender-based violence such as sexual violence and human trafficking. Securing their safety and ensuring their dignity and health through life-saving access to information, services and resources is critical. 
UNFPA, the United Nations Population Fund, introduced the referral pathway for child protection and gender-based violence cases, together with the Joint Regional Child Protection-Gender-based Violence Working Group (JRCP-GBV WG) for the Marawi Armed Conflict Humanitarian Response.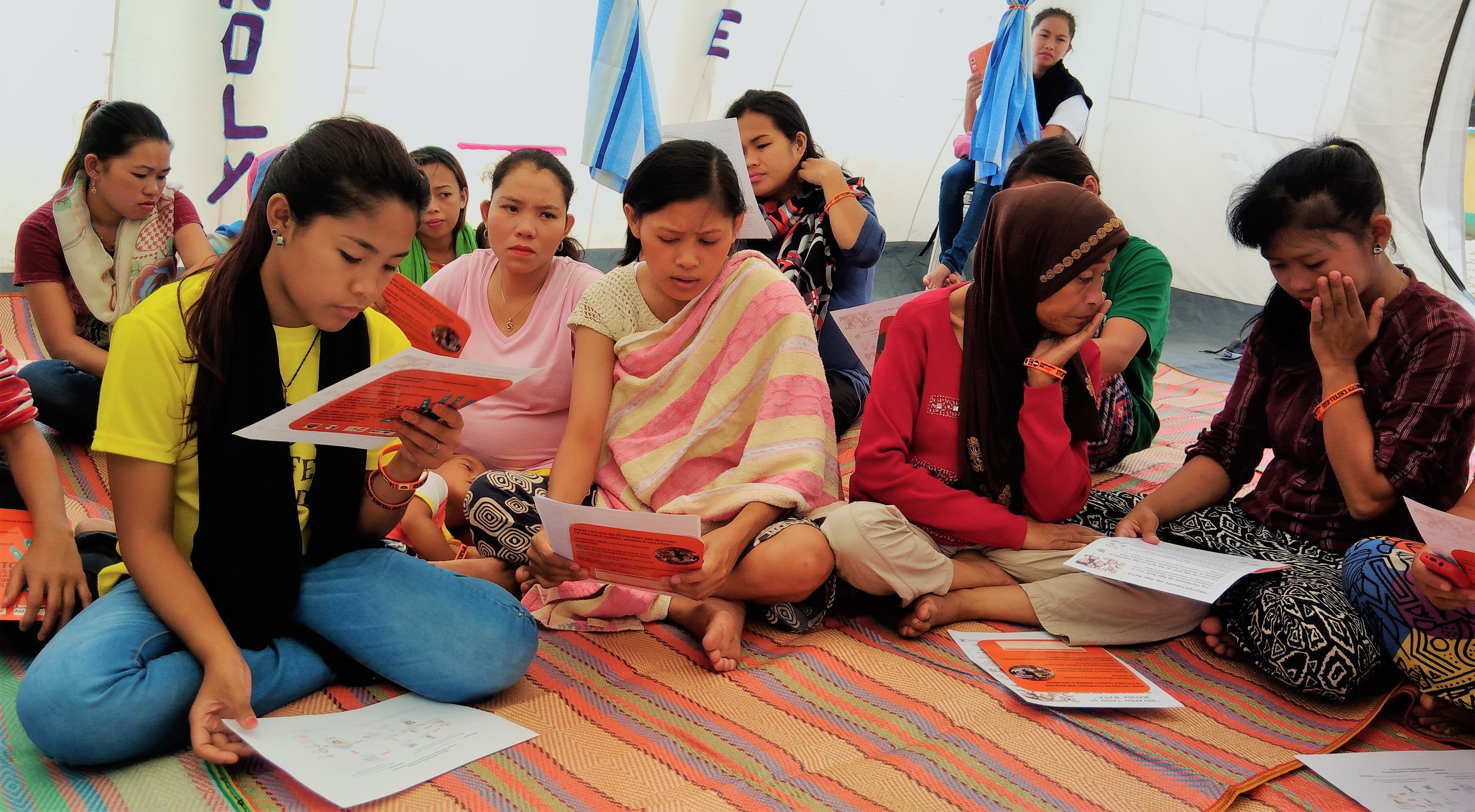 The referral pathway aims to help the community in identifying, reporting and providing support to survivors of abuse, exploitation and neglect. It lists the types of abuses, neglect, and exploitation that should be reported by the community as well as the entry points for reporting and services available for the survivors. 
This helps guide survivors and witnesses of gender-based violence or child protection issues on what to report, to whom should it be reported and what available services are there for the survivors.
It also supports service providers to ensure the delivery of appropriate, timely, gender-sensitive and child-friendly services to survivors.
Empowering women 
Ms. Disomimba has been actively involved in the development of the referral pathway. She was invited to participate in a forum, providing community feedback and validation of the referral pathway in September. 
Along with other women, she suggested including community leaders such as the ustadia, female Arabic teachers, to the referral pathway as their familiarity with Islamic laws would be beneficial in offering protection. She also crucially recommended the inclusion of a Maranao version of the referral pathway to make it helpful for elders who cannot speak Tagalog.
"I am happy to have been part of the making of the referral pathway," Ms. Disomimba told UNFPA. "I will not be afraid anymore. I know my rights and that there are people who can help me," she said. 
- Irene Quizon