As the second anniversary of the "liberation" of Marawi City from the siege by an ISIS-inspired terrorist group approaches on 17 October, Jasmerah Comadug, a 23-year-old teacher,  welcomed women and girls with her usual disarming smile into a colorful tent in Brgy. Sagonsongan. She invited them to sit on the woven mats laid across the floor and open themselves up for the ensuing discussion. 
  As she always does as an educator , Comadug beckoned her audience -- her fellow Maranao women, adolescents, and also men -- to look at the visual aids around them, and proceeded with  the session.
Comadug is herself one of the internally-displaced persons (IDPs) who stay in transitional shelters in Sagonsongan.  She and many other IDP women have been recruited by the United Nations Population Fund (UNFPA) as facilitators for the "Women-Friendly Spaces" (WFS) where they conduct regular information sessions about the protection of women and children. They also refer women and girls, especially survivors of gender-based violence (GBV), to counselling, psychosocial support and life-saving health and clinical services.
"Those women and girls need a space where they can feel safe and comfortable talking about their experiences, especially those who went through harassment and abuse," Aimee Santos, UNFPA GBV Coordinator explained the backdrop of establishing the WFSs. "Through these information sessions, those women and girls are able to learn about their rights and how to protect themselves, which they may not have been aware of before." 
Soon after the Marawi siege crisis broke out in May 2017, UNFPA started assisting the establishment of WFSs in the affected areas.  To date, four WFSs out of these are still operating across Marawi City and the neighboring municipalities of Marantao and Piagapo in Lanao Del Sur, with 60 facilitators organizing information sessions inside these WFSs and also in surrounding communities. Aside from women and girls, men and boys are also invited to the sessions, so that they can also learn how to respectfully treat their wives,  mothers, daughters, sisters and other women and girls in their community.
"In the quest for equality, it is not enough if we just try to empower women to speak up and protect themselves.  Those men around them need to be the supporter and champion for gender equality as well," said Santos of UNFPA. 
Personal struggles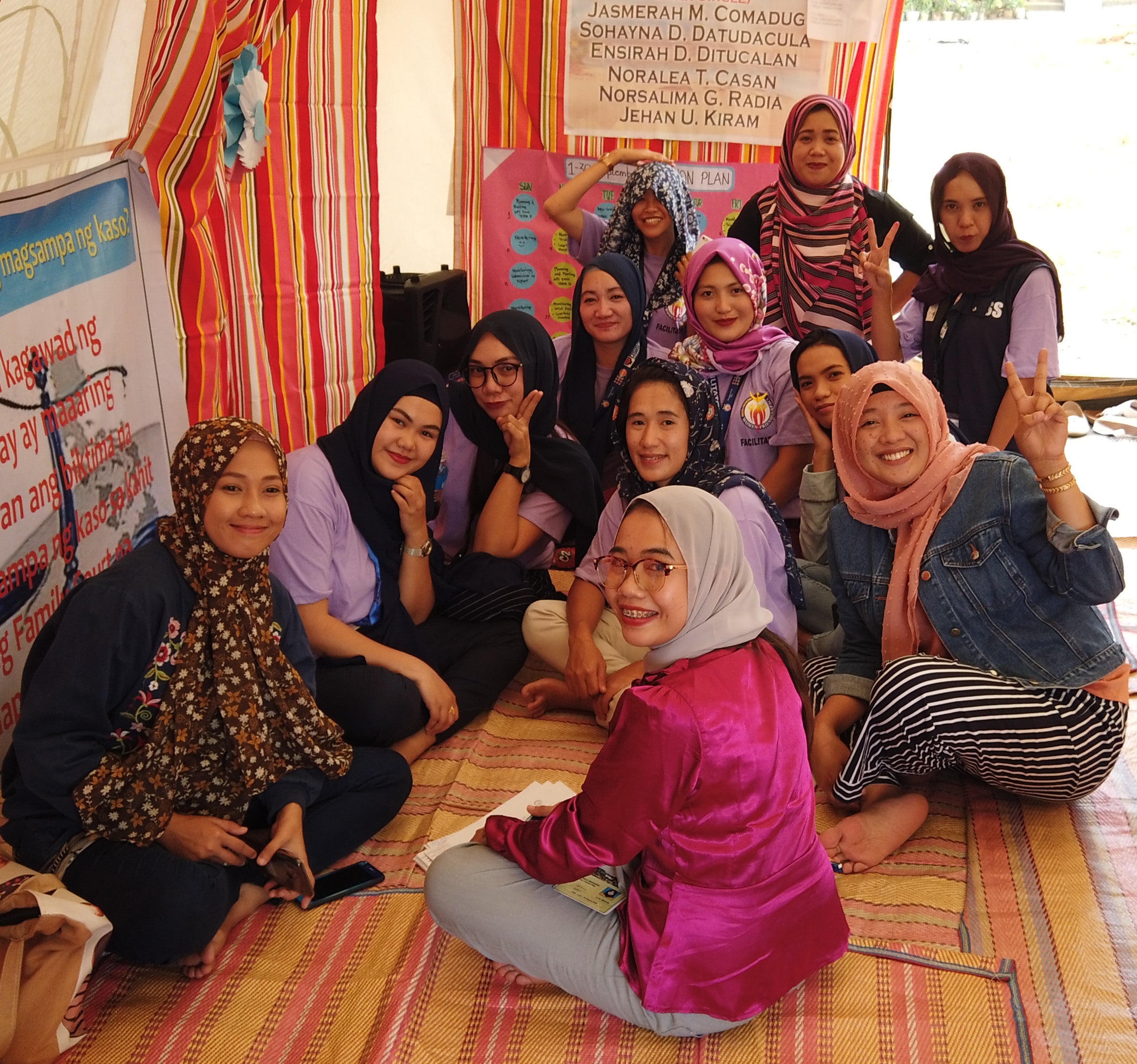 As many as 360,000 people became IDPs because of the siege.  Hearing the experiences of many of them  as a WFS Facilitator was "bittersweet" for Comadug. While she was able to help her fellow people cope with their struggles, she was occasionally reminded of her own.
When the crisis struck Marawi City, Comadug was a volunteer teacher at her alma mater, Senator Ninoy Aquino College Foundation.  It was her colleagues that broke the news to her -- Brgy. Marinaut, where her parents lived, was about to become Ground Zero of the Marawi siege.
"I wanted to go home right then, but our school principal did not want us to risk our safety and security," said Comadug.   Her father, a former military man, chose to stay and guard their home.  Comadug was praying for their safety, while she was waiting for the time for evacuation.  When she left the school the next day, 24 May 2017, and returned to see him, her father had already succumbed to the crossfire.
"We all felt guilty that we left our father there. We were not even able to bury him properly -- all we could do was bury him under our kitchen floor," she said. "I wish I had been able to convince him to flee, that I had been able to hug him before I last saw him and tell him that we loved him."
Not willing to give up on her dreams, Comadug continued volunteer teaching, and passed Licensure Examination for Teachers (LET). In between, she needed something to do to take her mind off of her family's losses, which has led her to where she is today.
"I'm glad that the 'Women Friendly Space' is helping Comadug get through struggles and pain. I, too, am learning more about the rights of women and children, and I use this information when someone approaches me to ask for advice," said her mother, Subaida, a respected community leader in their area. 
A teacher learns
Besides having the chance to help women like herself recover from the impact of the armed conflict, what Comadug values the most about WFS is finding someone she can open up to and share the burden of tragic memories.
"At first I found it hard to socialize given what I went through, but when I found out everyone of us [WFS facilitators] no longer had fathers, we hit it off," she said.
Furthermore, Comadug learned the importance of being the "someone" whom her fellow people can rely on, even just by listening.
"I learned that there are people out there, especially after they go through difficulty and crisis, who just need a tap on the shoulder and to be told 'It's okay, you can get through this, we are here for you,'" Comadug said. "Even if you just tell them these words, they would not lose hope." 
Despite a bit of a detour, Comadug was able to put her teaching skills to use, and continues to do so in hopes of preventing more tragedies and losses like the one she suffered.
"After two years and a half since the crisis hit my home city, when I see my fellow people suffer from problems, I feel their pain as my own pain. And now I am confident that I can be of their help, because I'm now more educated about the rights of women and children," she concluded.