Maayong buntag,
Congratulations to the organizers for once again having brought so many dedicated, passionate family planning advocates together. Thank you for giving me the opportunity to share a few thoughts on family planning and inequality.
Last month, UNFPA, the United Nations Population Fund, launched our 2017 global State of World Population Report.
With the theme, "Worlds Apart: Reproductive health and rights in an age of inequality," the report makes the case that income inequality is in and of itself a serious problem that policymakers must to rectify, but beyond this, other forms of inequality also deserve urgent attention.
Indeed, women and girls are living worlds apart from each other as well as from men and boys, in terms of access to healthcare and opportunities for education, employment, and political participation.
In today's world, people are living in a widening economic divide, with the rich growing richer and many poor stay poor.
Right now, the combined wealth of the world's 2,473 billionaires exceeds $7.7 trillion, equivalent to the combined gross domestic product of four-fifths of the world's countries in 2015.
The gap between the rich and the poor is not only unfair, it is a risk to people, especially women and girls, the marginalized and the vulnerable, as it breeds other inequalities in health, education, employment and socio-political participation. It is also a risk to economies, to nations and to communities. 
In reality, economic disparities are only one part of the inequality story. Many other social, political and institutional dimensions feed on each other, and together block the hope for progress among people on the margins, especially women and girls.
Inequalities in sexual and reproductive health and rights are intertwined with gender inequality. Both deserve urgent attention and demand more action. Without such action, many women and girls will remain caught in a vicious cycle of poverty, diminished capabilities, unfulfilled human rights and unrealized potential – especially in developing countries and especially among girls.
In 68 countries across the world, gender gaps have widened between 2015 and 2016. Exclusion and inequalities in opportunities can have profound consequences on women and girls now and in the future.
Stopping the downward spiral of inequality will require a vision for inclusive societies and shared prosperity, guided in principles of human rights. Actions on multiple fronts must tackle all forms of inequality, social and economic, and both the consequences and root causes.
Some countries have shown the way forward – for example, by including sexual and reproductive health services in broader objectives to achieve universal access to health. Inclusive societies are a conscious, achievable choice, built through supportive public policies and laws, services and social norms. We all gain when human rights and dignity are universally upheld, with no exception and with no one left behind.
One measure of access to sexual and reproductive health services is the extent to which a woman who wants to use a modern method of contraception has access to it. We know that in the Philippines for 22% of the women in the poorest quintile this is today not the case, while for all women it is 17.5% (2013 National Demographic and Health Survey (DHS)).
Access to family planning services is a foundational element not just of reproductive health, but of social and economic equality, since unintended pregnancy constrains opportunities that women would otherwise have for education and economic advancement.
The report cites a strong positive relationship between household wealth and skilled birth attendance. In the Philippines 37 percent of women, who did not give birth in a health facility said it was because it cost too much.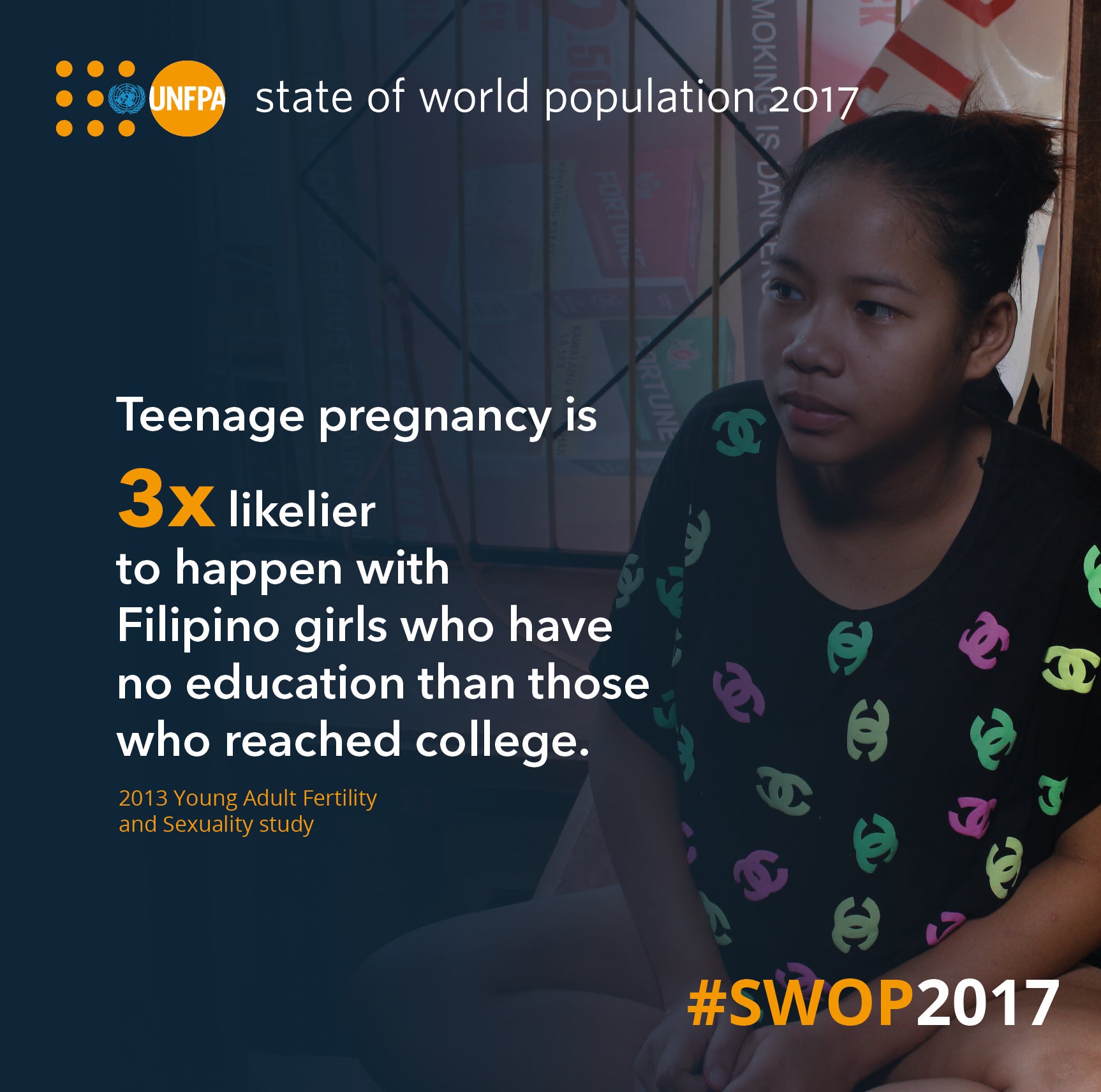 Another sign of inequality? In the Philippines, teenage pregnancy is three times likelier to happen with girls who have no education than those who reached college, according to the 2013 Young Adult Fertility and Sexuality study. We know that motherhood in childhood puts a girl at a disadvantage as it shifts her priorities from education and from carving a bright future to taking care of her child and, perhaps, heading a family early in life.
The ways in which inequalities in women's health and rights intersect with economic inequality are complex and often not linear, but the impact is clear. The poorest and least educated women have the least access to sexual and reproductive health, are least able to exercise their reproductive rights.
Studies show that inequalities in sexual and reproductive health and rights are intertwined with gender inequality. In many societies, pregnancy and child-rearing can mean exclusion from the labor force or lower earnings. The challenges are even greater for women who lack the means to decide whether, when or how often they become parents.
Once in the paid labor force, women find themselves earning less than men for the same types of work. This phenomenon is called the gender wage gap. ILO reports that globally, this gap stands at 23% - meaning that women earn 77% of what men earn. Progress in narrowing this gap is rather slow and ILO estimate that it will take more than 70 years before the gender wage gap is closed.
Then, we have the so-called motherhood penalty where women are passed over for employment, promotions or salary increases because of the anticipation of a pregnancy-related leave.
And then there is economic violence which occurs when a woman is deprived of her economic means because her partner either controls the economic resources or prevents the woman from having or keeping a job. Unfortunately laws protecting women from economic violence are rare.
And if that is not enough challenges and inequality in addition, women do on average 2.5 times more household work than men. This all the more limits women's opportunities to engage in paid employment and through that get economically empowered.
So there is a lot for us to address and a lot for those of us who are men to reflect on and do something about, starting at home by taking more part in household work.
Closing the gap in access to reproductive health and family planning services is a critical starting point, which is not only the right thing to do to safeguard the rights of women and girls. It benefits them, but will also benefit their societies and families.
For societies, there will be increases in growth of GDP and GDP per capita, increases in the number of working age adults relative to dependent children, and decreases in demand for public expenditure in education, housing and sanitation.
For families and household, improved sexual and reproductive health care results in increased savings and household assets, reduced number of children who become orphans and increased resources for children, especially for schooling.
For women, there will be an increase in the ability to continue education, in production and in earnings, and will promote autonomy, self-esteem and gender equity.
The multidimensional and persistent nature of inequality means that there is no single or easy way to close gaps between women and men, rich and poor, rural and urban, and the healthy and those who have no access to health care. As the Lancet Commission noted in its seminal report on adolescent health and well-being, and I quote, "the most powerful actions are inter-sectoral, multilevel and multi-component" (end of quote).
Still, progress is possible, without addressing every dimension of inequality at the same time. Progress in one dimension can enable progress in others. Even small steps can open the path to great strides.
Based on evidence of what works around the world, these 10 actions can help realize the quest for a more equal world.
It requires all countries and all citizens to come together and tear down the inequalities in the lives of girls and women so that, in the end, they will not live worlds apart, but are part of a world where they too enjoy a life of prosperity, progress, and equality.
A world, where no one is left behind.
Thank you.