Cotabato, The Philippines -- "It was 2009. I was 18 years old when I started training to be a BIWAB. I was too young and did not have enough experience for the role of a battalion commander," recalled Johani Ibad, who is now 26.
Johani joined the Bangsamoro Islamic Women Auxiliary Brigade (BIWAB), the group supporting the Bangsamoro Islamic Armed Forces (BIAF) of the Moro Islamic Liberation Front (MILF). The MILF is the largest and most well-known Islamic separatist group that seeks an independent Islamic region for Filipino Muslim minorities (Santos, 2014).
She entered Basic Military Training Camp (BMTC) along with other hopefuls. They learned how to hold guns, survive in the jungle, and provide the necessary support to the BIAF, such as providing first aid as medics. Weeks after the 45-day training, she got a call from their battalion commander, asking her to take over the role for a while because the commander wanted to rest and settle some personal problems.
When Johani tried to contact the previous battalion commander, the commander said that she would not be returning. The command was final. Johani had no choice but to agree, "even if everyone else in the brigade was older than her -- some were as old as my mother."
Until now, Johani still cannot fully grasp her experience as a battalion commander, but with her brigade's trust and assurance, she says, she had accepted the role and put her heart into doing the best she could.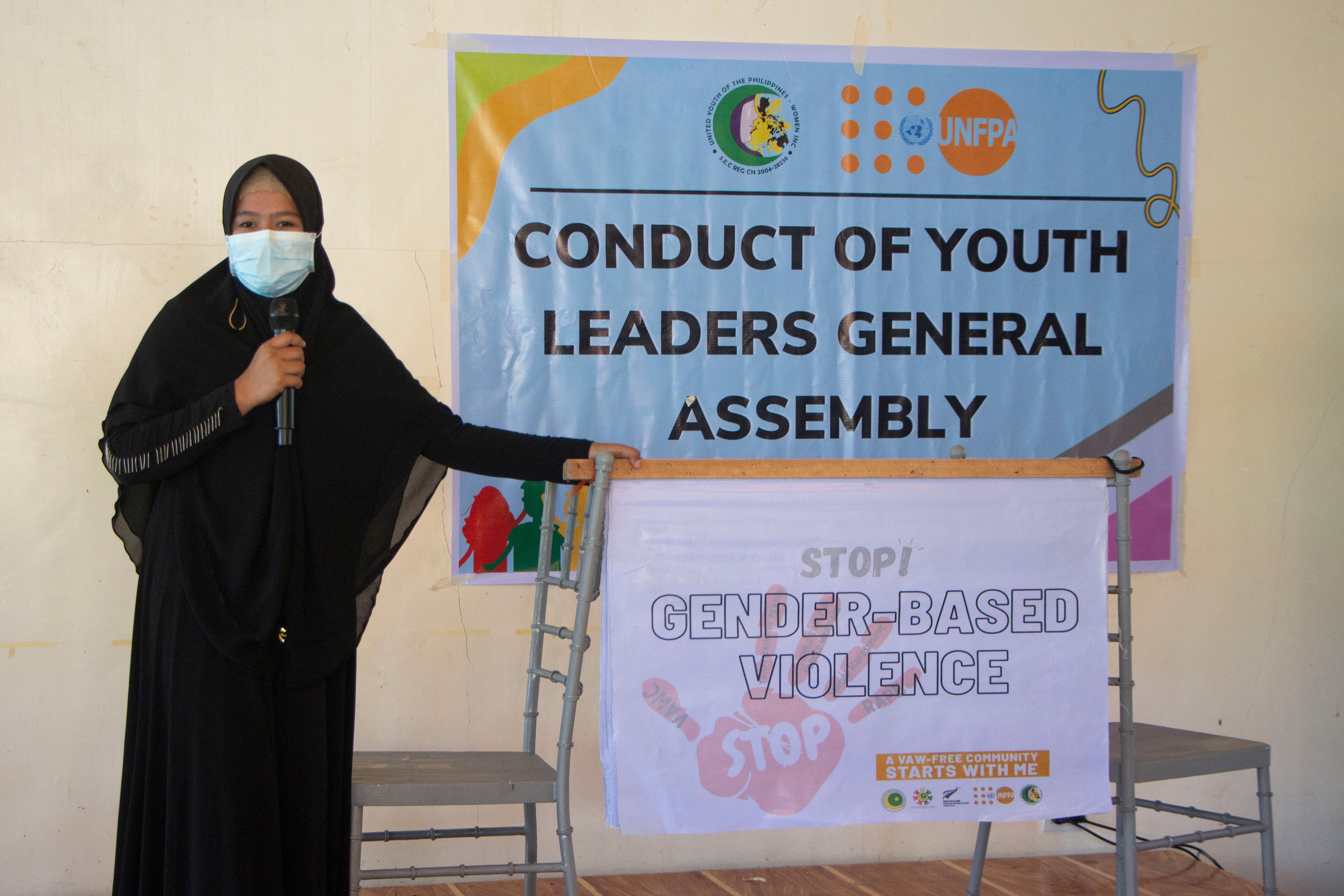 New Chapter, New Role
After years of peace talks and consultations, the Bangsamoro Organic Law (BOL) was signed in 2018. The BIWAB, along with the BIAF, was withdrawn from armed services. The BOL states that "It shall observe, promote, and ensure gender-responsiveness in all aspects of security and peace-building, including the participation of women in decision-making."
Johani learned about the Reintegration and Transformation of Former Female Ex-Combatants to Parasocial Workers Project of UNFPA and the Government of New Zealand. The project aims to support the government in the rehabilitation and development of the different provinces previously affected by the decades-long armed conflict.
"I joined as a parasocial worker because I needed to be where my brigade is. Maybe I can also join to gain experience from the program. At least, being a combatant is not all I will ever know," Johani shared.  As battalion commander, she wanted to ensure her crew's safety and well-being.
"I did not realize how this can be life-changing."
"Before, the public and even our communities did not know about BIWAB, but now, we are recognized positively by the community," Johani narrated.
With the programme, BIWABs became at the forefront of raising sexual and reproductive health and rights, including Gender-Based Violence (GBV) awareness in the community. They go to remote areas in the municipality to conduct community service, provide relief assistance, do interviews, and profile hard-to-reach communities to enroll them into government programs. "When they see me, they call me 'Ma'am GBV' or 'Ma'am VAWC,' " Johani shared, her eyes lit up.
The program also gave her more confidence to lead the team. Johani added, smiling, "I am now closer to my colleagues. I consider them my friends."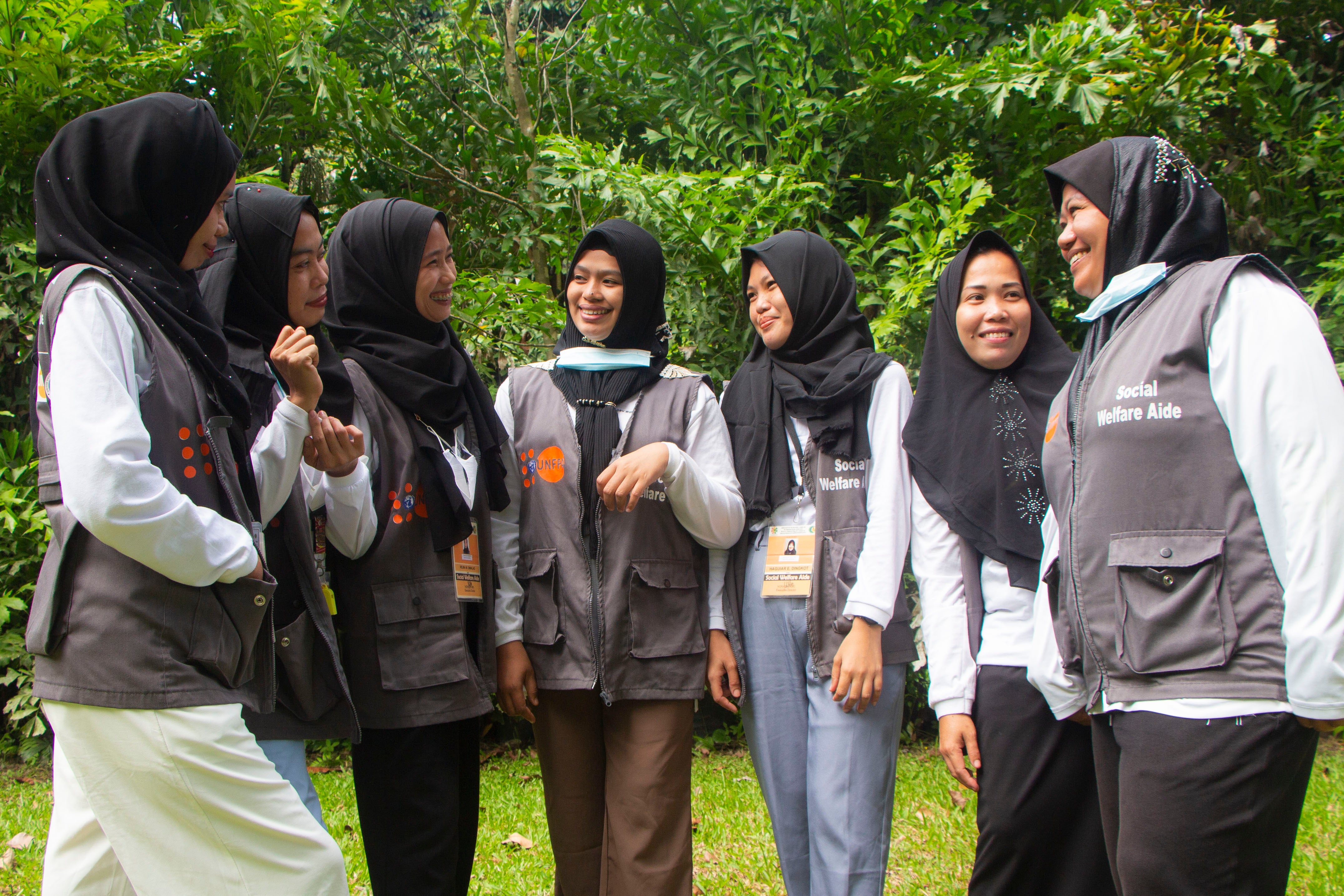 Despite finishing a degree in Public Administration, Johani did not get the chance to practice what she studied because of limited opportunities for women in their area. In addition,  just like most BIWABs, Johani is also a mother helping her family with their daily expenses. She shares that the allowance she earns from being a parasocial worker helps cover her family's daily expenses and her child's school fees. Her family looks up to her for being a community servant and is proud of her achievements as a parasocial worker.
"Who knew after years of experience in conflict, there is also something meaningful and fulfilling waiting for all of us," Johani exclaimed.