MARAWI, Philippines – In a sweltering tent at a rain-beaten evacuation centre in conflict-scarred Marawi city, Aslima Tawacal, 35, carefully safeguards the medicines she has just received from a UNFPA-supported medical mission.
"I gave birth a month ago. And today when I went for a check-up, I learned I was anaemic," she told UNFPA.
"I am really grateful I was given medicines and vitamins," she added.
Nine months after the end of the armed conflict between the Philippine Government and a local non-state armed group inspired by ISIS, the government-led humanitarian response has had concrete results. Over 320,000 displaced people have returned home to Marawi, but almost 70,000 others are still waiting, including Ms. Tawacal.
"Our house in Marawi is in Dansalan, ground zero for the conflict. My husband has been able to see our home but there is nothing left. Everything has been burned," she told UNFPA.
Ms. Tawacal, her family and those still displaced are living in evacuation centres, among host communities and at transitional sites, waiting to return.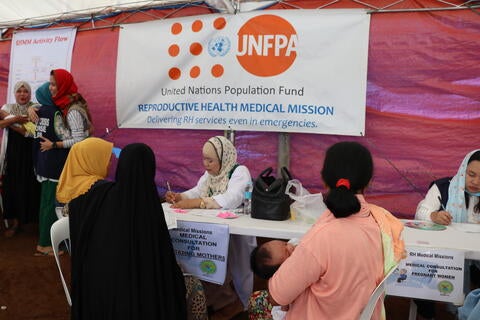 As is often the case in humanitarian settings, the crisis has increased the risks for women and girls. Those living in crowded evacuation centres, for instance, typically lack privacy, leaving them vulnerable to attack or abuse. Women and girls also have health needs – such as the need for reproductive health care, antenatal services, post-partum health care or menstrual hygiene supplies – that are easily overlooked in a crisis.
"Working together"
In partnership with local health offices and with support from the United Nations Central Emergency Response Fund, UNFPA has been supporting 25 reproductive health medical missions to provide life-saving reproductive health information and services to 2,000 women and girls of reproductive age, including pregnant and lactating women.
"These medical missions are key to ensuring that pregnant women, new mothers and girls access critical reproductive health information and services such as antenatal and post-partum health care even in emergencies," said Klaus Beck, UNFPA's Representative in the Philippines.
"The medical missions provide a venue for vulnerable women and girls to consult and be examined by doctors to detect and manage pregnancy complications, and also receive family planning information," he added. 
Doctors from local health offices provide consultations and examine the displaced women and girls in both the evacuation centres and host communities.
"On a daily basis, we are thinking of how we can serve the displaced people wherever they are in these 72 villages and evacuation centres. Our health system is doing the best it can and as long as they need these services, we will be there," said Dr. Cabiba S. Macapaar, Asst city health officer of Marawi.
"Dignity kit"
UNFPA, through its implementing partner, the Mindanao Organization for Social and Economic Progress (MOSEP), has also been distributing thousands of dignity kits and maternity packs for pregnant women, new mothers and vulnerable women and girls of reproductive age. 
The latest consignment of 1,250 maternity packs is mainly for pregnant women who have just delivered their babies or are about to deliver, and contain maternity pads, newborn clothes and diapers, among other essential supplies.
Also being distributed are 2,000 dignity kits which contain hygiene materials such as sanitary napkins, underwear, soap and shampoo, as well as items to help women feel safe in the dark, such as flashlights and whistles. This is in addition to the almost 22,500 dignity kits distributed earlier, during the crisis itself.
Ms. Tawacal also received a dignity kit. She smiled as she assessed the items inside. "I'm happy I received the medicines and these materials. They really are helpful," she told UNFPA.
Looking outside the tent, as the last drops of rain fell over the evacuation centre, Ms. Tawacal remains resilient. "I'm hoping in the future my family can be in a better place, and my children can continue their education," she said.
- Mario Villamor