UNFPA: Delivering a world where every pregnancy is wanted,
every childbirth is safe and every young person's potential fulfilled.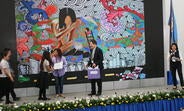 11 August 2017
UNFPA in partnership with the Office of the Vice President launch the Babaenihan Campaign at Western Philippines University.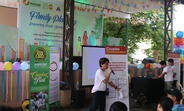 11 July 2017
The Commission on Population, in partnership with UNFPA celebrate World Population Day.
The Fatwa on the Model Family in Islam urges the Muslim youth to "get married when the...
Investing in 10-year-old girls could yield huge demographic dividend, pump billions into...