You are here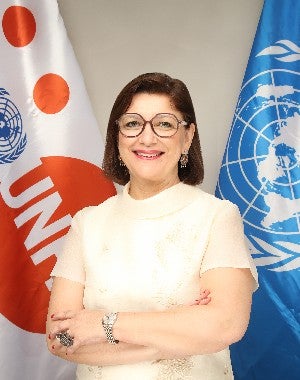 Dr Leila Joudane
Before her assignment in the Philippines, Dr. Leila Joudane was the Country Representative of UNFPA Iran for four years, where she pushed for the integration of protection and response to gender-based violence, investing in youth and women to harness the Demographic dividend through a life cycle approach, among others, in UNFPA Iran's Country Program. 
She also served as the UNFPA Assistant Country Representative in Tunisia for ten years. She led the country office's growth in partners and spearheaded developing the Arab region's first comprehensive law on gender-based violence. In addition, Dr. Joudane led the resource mobilization process and positioned the mandate of UNFPA within the UN system and the national stakeholders.
Prior to joining the United Nations, Dr. Leila Joudane was the Deputy Director of the National Institute of Family and Population, Ministry of Health in Tunisia. 
Dr. Leila Joudane is a medical doctor with a Master's Degree in the Management of Quality of Care in Faculté de Médecine de Tunis, in Sousse, Tunisia.